With all the benefits to reviews, knowing how to create a Google Review link is essential for businesses. Reviews are an amazing resource for small businesses, either to learn from customer expectations and experiences, or to gain the attention of potential customers. Reviews can help to improve service by allowing the manager to see what customers would change or like to see changed. Reviews also provide a reliable source for other people looking for the same product or service. As reviews can benefit both the business and the customers, here is a step by step guide detailing how to create a Google Review link.
Step 1: Find your PlaceID
To begin the process of creating a Google Review link, you must first visit the PlaceID tool which can be found by clicking here. A map is shown by scrolling down on the page. This is where you will begin the process of creating your Place ID. The PlaceID is important because this is the component that will link customers to your review site.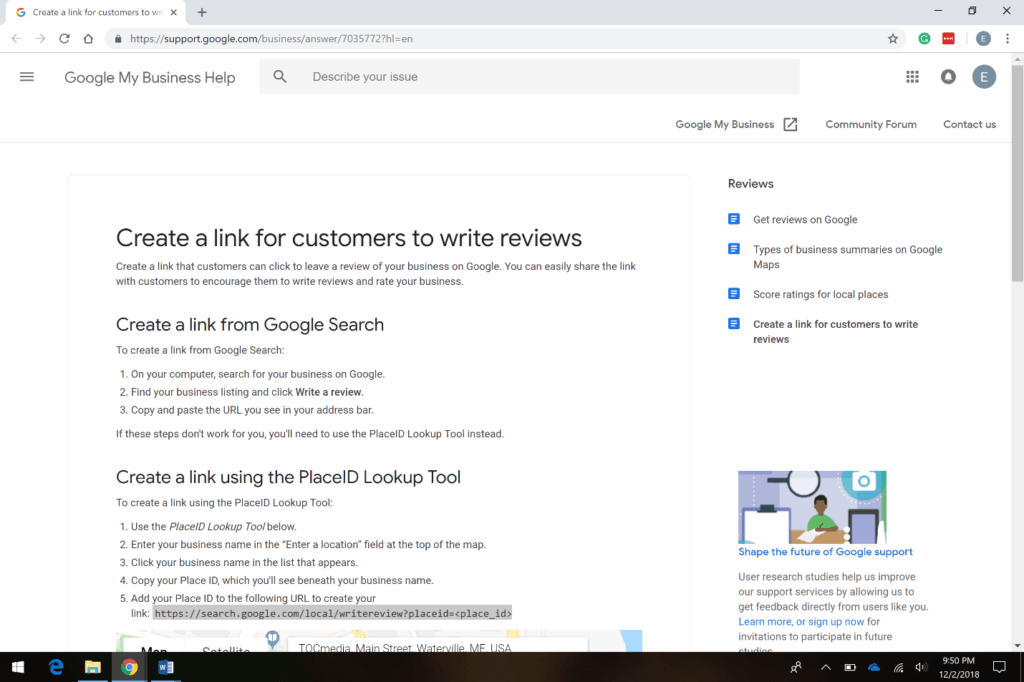 Step 2: Enter Business Name
On the map, a location bar can be found at the top. Type your business's name into the bar. The location of your business will be found, and a list of business names should pop up. Click on your business.
Step 3: Create your Link
After clicking on your business, a point will appear on the map showing the location of your business. A label will appear near the point including the name of your business, the address, and your PlaceID. The PlaceID can be found directly under the name of your business. Use this URL https://search.google.com/local/writereview?placeid= and add your PlaceID to the end.
Your link has been created! Now you can provide the link to your customers, so they can leave a review!
Review us at TOCmedia here